---
THE PERFECT SOLUTION FOR STRESS & PAIN RELIEF IN THE COMFORT OF YOUR HOME🧘
Aaraam Mat™ unlocks the benefits of acupressure to relax your body and ease your mind, in the comfort of your own home.


You can't put a price on health.
How can it benefit me?
Aaraam Mat™ works in just 20 minutes. Over 6000 spikes apply pressure to your skin and muscles to support:
- Deep, restful sleep
- Healthy blood circulation
- Relaxation of tense muscles
- Reduction of anxiety 
- Soothing of headaches
- Relief from stress
- Relaxed body and mind
- General vitality 
"AARAAM"MEANS REST/RELEIF IN HINDI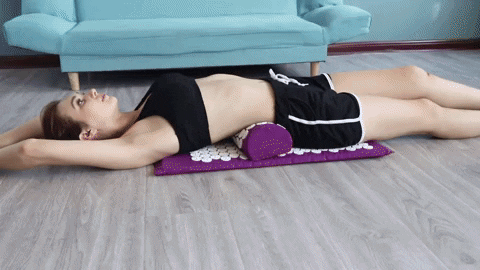 ALL ORDERS TODAY WILL GET THE AARAAM PILLOW & CARRYING BAG FOR FREE, WORTH 19.99.
* ONLY A FEW LEFT *

❝ I use my Aaraam Mat almost every night before going to bed. I used to struggle with a sore neck and it really helps me to relax and gives me a night of very deep sleep. The first few seconds are a bit uncomfortable, but once you notice the blood flowing and your body relax it feels so good! it's literally a massage mat for the price of just one massage. it's truly a lifesaver.❞
- JULIA M.

GRAB YOURS NOW. NOT AVAILABLE IN STORES

VARIOUS AREAS OF APPLICATION -  Back pain, insomnia, chronic stress, fatigue, tension, and much more.

STRESS RELIEF -

 

The spines trigger the release of oxytocin, commonly known as the "hormone of love and serenity", which immediately relieves stress and creates a feeling of calm and well-being.

INCREASED VITALITY -

 

The acupressure points also act to stimulate and improve blood circulation. As a result, it promotes energy intake and faster regeneration of overworked muscles.

IMPROVED QUALITY OF SLEEP -

 

The Aaraam Mat™ helps you fall asleep quickly and naturally. It relaxes you into a deep and restful sleep, allowing you to wake up in the morning feeling refreshed.

PAIN RELIEF -

 

The Aaraam Mat™ mimics the healing concept of acupuncture treatment by releasing endorphins, relaxing muscles, and reducing tension to provide the body with energy. 
Care instructions:
Handwash only in lukewarm water. Rinse by hanging and shower off. Let hang dry.
COVID-19 notice: Our distribution centers and customer care centers will remain open, and we will keep our order delivery as fast as possible, as local regulations allow. However, please be advised that a delay of a few days can occur occasionally.
Cheaper than everywhere else.
Wonderful mat! I placed the order, It was sent just the next morning (ordered at night), it came to the post office in 10 days. Needles are good, moderately sharp. In general, the Mat fully corresponds to the fact that in offline and other online stores they sell for 3-5 times and more expensive, inside is the foam rubber. The size of the foam foam mat itself came out 63x40 cm, it is Velcro, if necessary, the filler can be obtained. The pillow is also wonderful, with a zipper, very comfortable. Several times already used, no different from expensive mats. Very satisfied, with confidence I can recommend! , Nowhere sticking thread is not, made all very high quality)
helped with my menstrual cramps
I love this mat and pillow!!! It's beyond amazing and I feel so relaxed after I use it. It has even helped ease the tension in my lower back and help with my menstrual cramps. Highly recommend!
so far it's better than expected!
Just received the mat & pillow yesterday. I've had acupuncture, which helped but was only short term relief. I didn't know spect too much from this little pad with plastic spikes. :-)
Pleasant surprise—so far it's much better than I expected! I used it for ~10 minutes with a cotton cloth between the pad and my skin. The discomfort was minimal and the big 'crick' in my back that woke me in the early hours of the morning was 90% better. The effect lasted for almost 3 hrs. FYI, I'm a chronic pain sufferer, so anything that provides relief is rare. I'm looking forward to trying it throughout the day to see how well the effect lasts.
Godsend for Back and Neck Pain
This exceeded my expectations. I figured it would help with some tight spots in my back but it really helps my back overall. And oh myyyy does it feel good to stand on that mat. So a lil info: I'm a healthy 32 year-old but due to catching a falling person abruptly, I've got sciatica and a pinched nerve in my left shoulder, in addition to constant tension headaches. Right off the bat I didn't find this mat uncomfortable to lay on; it's definitely not like needles on your skin. The body parts on the mat do get warm after a few minutes - in the best way, feels like blood is flowing and regenerating your body. After the first use, my mobility was better and motions that typically aggravated my injuries were barely noticeable. I didn't realize how much pain I was in until I started using this and experiencing relief. I look forward to using it everyday as it relaxes me, giving me the chance to meditate or at least focus on what my body is telling me. This shiz is worth much more than it costs.
My nighttime "me time"!
I love laying on this at the end of the day! I know that it will get the blood flowing to the knots and the tension held in my muscles. It's the perfect relaxation tool. My advice: build up your tolerance. It will hurt just a little at first, but by day three, it'll begin to feel good right away.